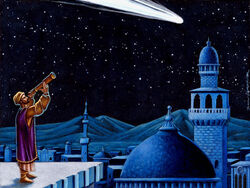 The Night of the Burning Sky was described in the Book of the Dead as "a time when the Moon would flee, and the stars would scream, and the world would brace for another beginning." [1]
It could mark the beginning of the First Jinn War, when the Kaleel's Legion toppled the Moon and cast him into an eternity of quiet slumber, invaded the night sky, dousing thousands of stars and capturing the rest. [citation needed]
Other said it could mark the beginning of the Twenty-Seven Days of Darkness, when Kaleel, the Moon, and Shilah, the Sun, disappeared from the skies, immediatelty after the Awakening. [citation needed]
External Links
Edit
References
Ad blocker interference detected!
Wikia is a free-to-use site that makes money from advertising. We have a modified experience for viewers using ad blockers

Wikia is not accessible if you've made further modifications. Remove the custom ad blocker rule(s) and the page will load as expected.