Ad blocker interference detected!
Wikia is a free-to-use site that makes money from advertising. We have a modified experience for viewers using ad blockers

Wikia is not accessible if you've made further modifications. Remove the custom ad blocker rule(s) and the page will load as expected.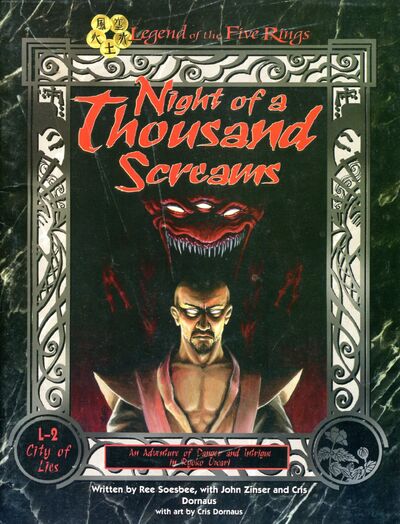 Night of a Thousand Screams (L-2) was an adventure book for the Legend of the Five Rings roleplaying game, and the second of the "City of Lies" series. It showed more in-depth aspects of combat.
Art Director: KC Lancaster
Cover Artwork: Cris Dornaus
Interior Artwork: Cris Dornaus
City Map: KC Lancaster
Structure Maps: Cris Dornaus
Artwork Prepress: Cris Dornaus, Steve Hough
Line Editor: D.J. Trindle
Editing: D.J. Trindle, Patrick Kapera
Interior Layout: Steve Hough, Ree Soesbee
Night of a Thousand Screams: Table of Contents
Edit
Introduction (page 4)
Edit
5:30 P.M. Party Crasher (page 6)
Edit
6:00 P.M. Stop! Thief! (page 10)
Edit
6:20 P.M. The Chase is On! (page 12)
Edit
7:00 P.M. Back at the Inn (page 16)
Edit
7:10 P.M. Rock-a-Bye Oni (page 17) Edit
7:45 P.M. A Delicate Game (page 20)
Edit
8:15 P.M. The Unicorn Warehouse (page 22)
Edit
8:40 P.M. The Heart of the Problem (page 24)
Edit
9:00 P.M. A Tattooed Friend (page 27) Edit
9:30 P.M. The Merchant's Secret (page 29) Edit
11:00 P.M. A Friend in Need (page 34)
Edit
11-2 A.M. Secrets and Threats (page 35)
Edit
2:15 A.M. Ambush! (page 38)
Edit
3:00 A.M. The Prison (page 38)
Edit
3:30 A.M. Death of a Merchant (page 41)
Edit