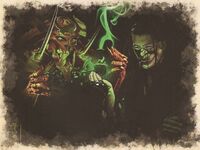 Night Silk Poison was a poison. No one knew its origin save the Scorpion Clan. If it had an antidote, it was a mystery to all. [1] The poison would kill who consumed it as a side effect the words the target wished to make became a rasping squeal. [2] Other said that the poison only made the target to sleep, and the antidote was made from a simple plant common in the Islands of Spice and Silk, used to wrap their sushi in it. A second posible antidote required an ample supply of Night Silk. [3]
External Links
Edit
References
Ad blocker interference detected!
Wikia is a free-to-use site that makes money from advertising. We have a modified experience for viewers using ad blockers

Wikia is not accessible if you've made further modifications. Remove the custom ad blocker rule(s) and the page will load as expected.