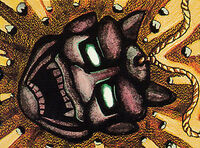 The Night Medallion was a tool of the Kolat and Lying Darkness. [1]
Abilities
Edit
It's bearer would be considered hard to track and extremely dangerous. [2] It enhanced all the abilities of the wearer, but it could not be used in direct sunlight or in the area of effect of a daylight spell. [3]
Some believed that the medallion contained the soul of Shosuro, the Scorpion Thunder, allowing the user to draw upon the power of the Darkness without succumbing to its effects. Others believed that the amulet was a remnant of the pure blood-magic practiced by mankind before the Fall of the Kami. [3]
External Links
Edit
References