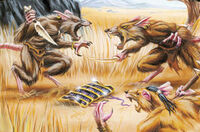 Nezumi Scroungers, Ithith, [1] took what they could find, and what they could not find they steal. [2] They were little more than thieves, and their subtlety made them expert spies. They were also masters of defensive combat, adept at confounding and confusing enemies while they make their escape. [3]
Nezumi Scrounger Techniques
Edit
See also
Edit
External Links
Edit
References
Ad blocker interference detected!
Wikia is a free-to-use site that makes money from advertising. We have a modified experience for viewers using ad blockers

Wikia is not accessible if you've made further modifications. Remove the custom ad blocker rule(s) and the page will load as expected.