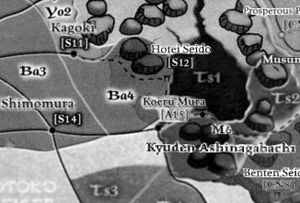 The Nezuban province (Ba4) was the Bayushi province extending from the easternmost border of the Chuuou province (Ba3) and the southernmost border of the Beiden province (Yo2), being enveloped by the Tsuruchi provinces. Notable location within the province was the temple of Hotei Seido (S12) [1] and the Keep of the Fortunate Husband. [2]
Wasp Clan
Edit
At the end of the 11th century the province's capital, Shiro no Uragiru, was captured by the ronin Tsuruchi, renaming it Kyuden Ashinagabachi and making it the stronghold of his new Wasp Clan. [2]
References
Ad blocker interference detected!
Wikia is a free-to-use site that makes money from advertising. We have a modified experience for viewers using ad blockers

Wikia is not accessible if you've made further modifications. Remove the custom ad blocker rule(s) and the page will load as expected.