Nekhebet was a Senpet archer. She was an explorer, and during her wandering as guardian of caravans [1] Nekhebet reached the Ivory Kingdoms, from which she returned with an Ivory Bow. [2]
Nekhebet died in 1132 during the events of the Awakening. [3]
External Links
Edit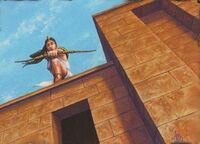 References
Ad blocker interference detected!
Wikia is a free-to-use site that makes money from advertising. We have a modified experience for viewers using ad blockers

Wikia is not accessible if you've made further modifications. Remove the custom ad blocker rule(s) and the page will load as expected.