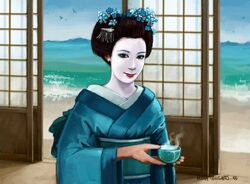 Natsumi, the Socialite, was an artisan and courtier geisha also known as Summer Sea. In 1199 the young geisha had only recently come of age, having a certain naïve and innocent element. Skilled with the tea ceremony, Natsumi also thrived on her sweet-natured enthusiasm, but lacked the ruthless competitive drive which might be needed to secure the best patron. [1] She was so popular that one must pay a fortune and wait three months just to have tea. [2]
External Links
Edit
References
Ad blocker interference detected!
Wikia is a free-to-use site that makes money from advertising. We have a modified experience for viewers using ad blockers

Wikia is not accessible if you've made further modifications. Remove the custom ad blocker rule(s) and the page will load as expected.