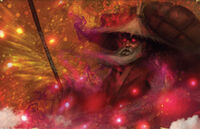 Natsu-togumara was the Fortune of Travel and Experience. [1] He was patron of those who craved adventure and excitement. Magistrates often prayed for his blessings in order to better fulfill their duties. Those who undertook an artist's journey or the warrior pilgrimage of musha shugyo also invoked his name. [2] He was also popular among the Ox. [3]
External Links
Edit
References
Ad blocker interference detected!
Wikia is a free-to-use site that makes money from advertising. We have a modified experience for viewers using ad blockers

Wikia is not accessible if you've made further modifications. Remove the custom ad blocker rule(s) and the page will load as expected.