Ad blocker interference detected!
Wikia is a free-to-use site that makes money from advertising. We have a modified experience for viewers using ad blockers

Wikia is not accessible if you've made further modifications. Remove the custom ad blocker rule(s) and the page will load as expected.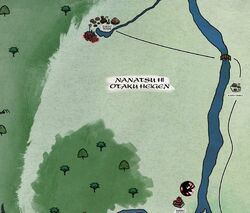 The Seven Day Battle Plain was named for the Battle of Sleeping River in 750 which lasted seven days. [1] The ronin who called himself "Usagi" assisted the Emerald Champion to defeat Iuchiban. He was granted a small castle and the lands that surrounded it. [2] There Reichin, which was his true name, founded the Hare Clan.[3]
References
↑ Legend of the Five Rings; Third Edition, p. 305
↑ Roleplaying in the Emerald Empire, p. 244
↑ Legend of the Five Rings; Fourth Edition, p. 368