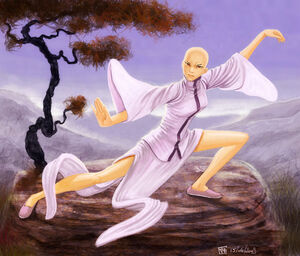 Utagawa's Journal
Edit
Utagawa noted in her journal that she practiced a style called the Fire of the World's Birth, and that Nakadai considered the Togashi family to be neophytes. [1]
Legion of the Two Thousand
Edit
Nakadai became part of the Legion of Two Thousand, and advisor to their leader Utagawa. In 1200 they were in the Palace of the Breaking Dawn overseeing the Battle of Treacherous Pass, where the Phoenix defeated the Unicorn invaders. [2]
External Links
Edit
References