Ad blocker interference detected!
Wikia is a free-to-use site that makes money from advertising. We have a modified experience for viewers using ad blockers

Wikia is not accessible if you've made further modifications. Remove the custom ad blocker rule(s) and the page will load as expected.
Naishou Province explores a forgotten corner of the Empire of Rokugan, where lies the small Naishou province. Unremarkable in virtually every way for as long as anyone can remember, the provincial governor of Naishou died under mysterious circumstances some time ago, and since then, things in the province have gotten… interesting. Intrigue and treachery have become the order of the day, and even the most honorable of samurai find themselves placed in impossible positions, both by the plots of enemies hidden in the shadows as well as by the machinations of their own allies. One entire province of the Empire has been completely detailed.
Written by: Maxime Lemaire & Robert Hobart
Edited by: Robert Hobart
Art Director: Shawn Carman
Cover Design: Robert Denton
Cover Artist: Gong Studios
Layout: Robert Denton
Original Graphic Design: Edge Entertainment
Artists: Hannah B, Drew Baker, Stefano Baldo, Noah Bradley, Sergio Camarena, Brent Chumley, Edwin David, Max Degen, John Donahue, Lino Drieghe, Shen Fei, Tony Foti, Felipe Gaona, Gong Studios, Ancor Hernandez, Hectro Herrera, Jeff Hill, Llyn Hunter, Aurelien Hubert, Jason Juta, Heather Kreiger, Greg Lambrakis, Asier Lopez, J. Matar, Patrick McEvoy, John Moriarty, Carlos NCT, Glen Osterberger, Mateusz Ozminski, Aaron Miller, Erich Schreiner, Jazz Siy, Alain Viesca, Wenjuinn, Imaginary Friends Studios, Robert Denton
Production Manager: David Lepore
Senior Brand Manager: Todd Rowland
Chief Executive Officer: John Zinser
Head Playtester: Brian Bates
Playtesters: Team 1 (Dave Smith, Patrick Chen, Aien Elmi, Jason Kang, Ki Chang Kim, Roger Liang, Arthur Nguyen); Team 4 (Becca Hobart, Kevin Blake, Todd Stites, Daniel Briscoe); Team 6 (Timar Long, Erykah Fasset, Chad Kirby, Mike Brodu, Maxime Lemaire, Ray Rupp); Team 7 (Jason Shafer, Nathan Shafer, Matt Strout, Liza Strout, Joe White, Terry Moore, Eric Newlin); Team 8 (Edward Reynolds, Brebouillet Mathieu, David Whitney, Richard Whitney, Stuart Biggs, Robert Knight); Team 8b (Michael Hill, Shane Pheeney, Chaedy Ritherdon, Tarl Cowly); Team 8c (Thomas Atwood, Ryan Castilla, Henry Joiner, Brandon Woodmen); Team 17 (Tom Lewis, Jamie Kipp, Gavin O'Hearn, Shawn MacLean, John Taylor); Team 18 (Dave Laderoute, Mike Clark, Chris Talarico, Chris Masdea, Lee Vollum, Richard Hewitt, Bill Hrenchuck); Team 19 Charles Caswell, Vincent Stantion, Eddie Sweeden, Chuck Sweeden, Justin Cross, Fox Whitworth); Team 20 (Matt Tyler, Timothy Hill, Stephen Mumford, Matthew Linkswiler, Paul Casagrande, Robert Zapf); Team 21 (James Freeman-Harris, Sarah Koz, David Wright, James Mosingo); Team 22 (Scott Shepard, Dawn Dalton, Andrew Doud, Justin Davidson, Jon Huskey, Trista Lillis); Team 23 (James Wagner, Kevin Pason, Ryan Bataglia, Chris Foster, Jim Friedman, Jason Whiston, Phil Jenicek, Dan Sulin, Izzy Lombardi-Friedman); Team 24 (Tony Love, Kassandra Mullin, Brian Tieken, Kimberly Wajer-Scott, Phillip Scott, Nicholas Love, Jerry Fleenor, Patrick Williams)
Table of Contents
Edit
Map of Naishou Province (Page 3)
Edit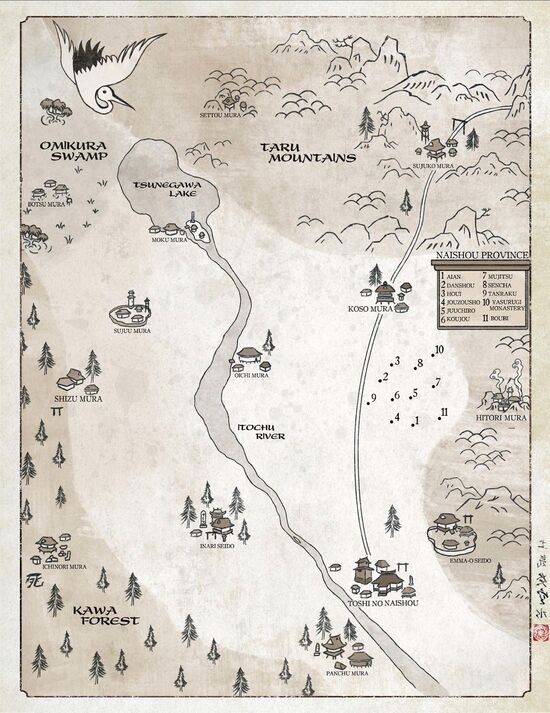 Secrets of the Empire: Naishou Province (page 4)
Edit
Chapter One: Toshi no Naishou (Page 9)
Edit
The City: Toshi no Naishou
Customs and Culture
Important City Locations
Relations With the Rest of the Province
The Governor's Court
Military Figures of Naishou Province
Religious Figures of Naishou Province
Other Prominent Figures in Naishou Province
Chapter Two: Settlements of Naishou Province (Page 34)
Edit
Chapter Three: Geography of Naishou Province (Page 52)
Edit
Chapter Four: A Plague of Crimes (Page 64)
Edit