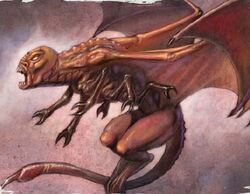 Nairu no Oni, Scourge of the Skies, were winged Oni. [1]
Appearance
Edit
Nairu no Oni were about the size of an average human. They were grey-skinned with sharp claws, huge leathery wings, and a very strong grip. They attacked their prey with a quick swoop and took the carcass back to a secluded area. [2]
Nairu no Oni and Daigotsu
Edit
Nairu no Oni were typically scavengers, and most creatures of the Shadowlands ignored them because of that. But when Daigotsu came to power, he saw use for these oni. Daigotsu placed the Nairu no Oni in the rear of his armies for support. While they were of little use in combat, they could carry other oni to places far away, allowing for more complex assaults on the Kaiu Wall. [2] Some of the feral ones had joined The Maw's assault on the City of the Lost. [3]
Tower of Fear
Edit
They nested in the Tower of Fear's ramparts. [4]
Battle Appearances
Edit
Battle in the Ruined City
Edit
In 1165 several Nairu no Oni were attacking a surrounded Lion group in the Battle in the Ruined City. [5]
Battle at the Tomb
Edit
In 1168 during the retreat from the Battle at the Tomb, a Nairu no Oni severely injured Yoritomo Katoa but was killed by the Mantis. [6]
See also
Edit
External Links
Edit
References
Ad blocker interference detected!
Wikia is a free-to-use site that makes money from advertising. We have a modified experience for viewers using ad blockers

Wikia is not accessible if you've made further modifications. Remove the custom ad blocker rule(s) and the page will load as expected.