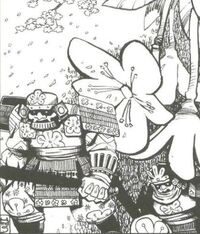 The Nagori's Chrysanthemums Guardians were magically formed from each blossom of the Nagori's Chrysanthemums, a bush which noticed the presence of the Shadowlands creatures and spawned the guardians. [1]
Appearance
Edit
The guardians looked like three-foot-high bushi in armor made of white blossoms, carrying wooden, thorn-studded tetsubo. When killed, they dissolved into scattered petals. [1]
See also
Edit
References
Ad blocker interference detected!
Wikia is a free-to-use site that makes money from advertising. We have a modified experience for viewers using ad blockers

Wikia is not accessible if you've made further modifications. Remove the custom ad blocker rule(s) and the page will load as expected.