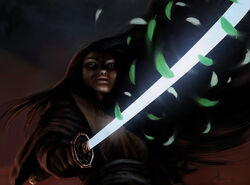 Nagisa was one of the few souls outside the Crane Clan who had attained an understanding of the duel to equal that of a Crane Iaijutsu master. [1]
The Wanderer
Edit
In 1168 Nagisa was in the City of the Rich Frog after she had abandoned

lands. Nagisa was at a tea house looking for a meal, but with no way to pay it. She was invited by a Wanderer who wanted conversation. They pondered about the misdeeds great individuals and even Gods made in the history. [2]
External Links
Edit
Nagisa (Test of Enlightenment)
References