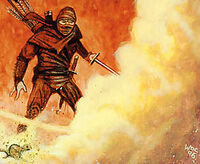 Nageteppo were the ninja egg grenades. They were awkward to carry, difficult to throw, brake easily, and did not work all times. They were protected with cotton when transported. [1] They were filled with strange mixes of powder so that when shattered they created either a blinding explosion or a thick cloud of black smoke to cover the ninja's escape. [2]
Smoke and Fire Nageteppo
Edit
The smoke nageteppo exploded into choking clouds of noxious fumes, which rendered unconsious any who inhaled them. The fire nageteppo were almost exclusively used at night, providing a brilliant flash that blinded any unwary viewer. [1]
External Links
Edit
References