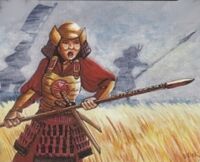 Nagayari, the Rokugani word for pikes, was a long wooden shaft with bladed tip. It was used effectively against cavalry, sticking the butt end firmly in the ground, lean the nagayari toward the enemy, and stand on the back end of the shaft. [1]
External Links
Edit
References
↑ Way of the Unicorn, pp. 100-101
Ad blocker interference detected!
Wikia is a free-to-use site that makes money from advertising. We have a modified experience for viewers using ad blockers

Wikia is not accessible if you've made further modifications. Remove the custom ad blocker rule(s) and the page will load as expected.