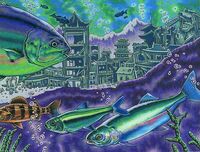 The Sunken Naga City was located at the bottom of Mizu-umi Ryo, and was rumored to perfectly preserved. [1] Statues suggested that it was once a naga city. When asked about it, the naga were strangely quiet. [2] Though few beyond a handful of Shinjo scholars knew its exact nature, it seemed odd that such ruins would remain unchanged for thousands of years while other land-based buildings vanished long ago. [3]
External Links
Edit
See Also
Edit
References
Ad blocker interference detected!
Wikia is a free-to-use site that makes money from advertising. We have a modified experience for viewers using ad blockers

Wikia is not accessible if you've made further modifications. Remove the custom ad blocker rule(s) and the page will load as expected.