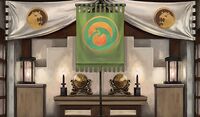 The Naga artifacts were a number of nemuranai of special value to the Naga people.
Safe Keeping
Edit
In 1198, following her awakening for a decades long sleep, The Mara ordered the artifacts removed from Naga temples. They were given to the Great Clans for safekeeping, hoping that they could be protected while the Naga endured coming horrors.[1][2]
Shinjo Itao and Shinjo Kinto were tasked with recovering the items, using the ronin Chuo and his nephew Karui to do so.[1]
The Artifacts
Edit
References