Naga Warlords were the guardians, protectors, and preservers of the Naga race. They promoted heroism, practiced fortitude in times of war, and generosity and majesty in times of peace. [1] The powerful backbone of the Naga forces, they used spear and scimitar to tear through their enemies. Most Warlords were of the Asp Bloodline, but also Constrictors and Chameleons were found within their ranks. [2]
See also
Edit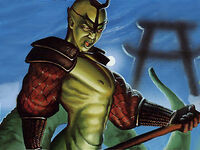 External Links
Edit
References
Ad blocker interference detected!
Wikia is a free-to-use site that makes money from advertising. We have a modified experience for viewers using ad blockers

Wikia is not accessible if you've made further modifications. Remove the custom ad blocker rule(s) and the page will load as expected.