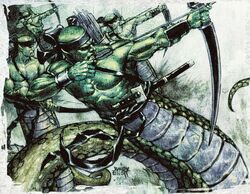 Naga Bow was the trademark weapon of the Naga race. Those who mastered combat with the bow were known as heroes, and were often told to teach the next generation of Naga. They were made from the wood of a particular grove sacred to the race near the heart of the Shinomen Forest. The bow string was made from the body of either a particularly impressive kill or from a material made with the Naga's own shed skin. [1]
References
↑ Complete Exotic Arms Guide, p. 88
Ad blocker interference detected!
Wikia is a free-to-use site that makes money from advertising. We have a modified experience for viewers using ad blockers

Wikia is not accessible if you've made further modifications. Remove the custom ad blocker rule(s) and the page will load as expected.