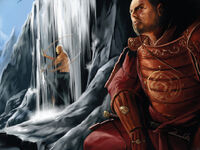 The Mystic Waterfall was the place where Hoshi Masote honed his body into an amazing weapon, and the place where he found enlightenment. In 1168 Masote was visited by the Emperor Toturi III disguised as the Wanderer in his quest for enlightenment. [1]
External Links
Edit
References
Ad blocker interference detected!
Wikia is a free-to-use site that makes money from advertising. We have a modified experience for viewers using ad blockers

Wikia is not accessible if you've made further modifications. Remove the custom ad blocker rule(s) and the page will load as expected.