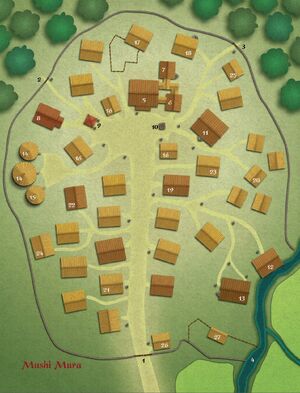 Mushi Mura was a small village known by its famous dried salted plums, used in their specialty sake. [1]
Landscape
Edit
The land around Mushi Mura was hilly, with numerous patches of woods interspersing the rice fields. The road to the village was a wide trail, which ended there. A mile beyond the village laid a sprawling old cedar forest, covering the rolling landscape. [2] Its rice paddies's canal were fed by the Cicada River. [3] A small shrineto Inari, the Fortune of Rice, was located there. [4]
Bloodspeaker Attack
Edit
Naga ruins were located near, which was the place where Spider Maho-tsukai attempted to create a hidden pocket of Tainted land. They seized the Mushi Mura to taint the villagers and use them in their foul rituals. [5] Eventually a group of samurai aided the surviving village's yoriki to recover control of Mushi Mura. [6]
Known Headman
Edit
References
Ad blocker interference detected!
Wikia is a free-to-use site that makes money from advertising. We have a modified experience for viewers using ad blockers

Wikia is not accessible if you've made further modifications. Remove the custom ad blocker rule(s) and the page will load as expected.