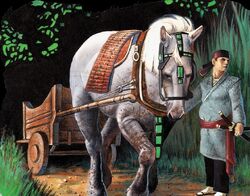 Musha was the loyal mane that rode with Sanzo during his life, and even after Sanzo's death, in the Realm of Thwarted Destiny. The Realm was named in 1166 Maigo no Musha to honor its rider, who was instrumental in the stability of the new Realm. [1]
External Links
Edit
Musha (1,000 Years of Darkness)
References
Ad blocker interference detected!
Wikia is a free-to-use site that makes money from advertising. We have a modified experience for viewers using ad blockers

Wikia is not accessible if you've made further modifications. Remove the custom ad blocker rule(s) and the page will load as expected.