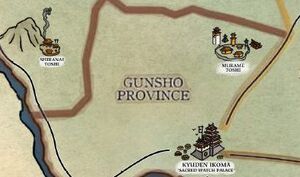 Murame Toshi, home to the Murame vassal family, was located to the northeast of Kyuden Ikoma. The barracks of the city were transformed into the family castle under the guidance of their second daimyo, Murame Nitobe, who also expanded the local dojo. Murame Toshi was an unremarkable heavily defended Lion village. [1]
References
↑ Secrets of the Lion, p. 42
Ad blocker interference detected!
Wikia is a free-to-use site that makes money from advertising. We have a modified experience for viewers using ad blockers

Wikia is not accessible if you've made further modifications. Remove the custom ad blocker rule(s) and the page will load as expected.