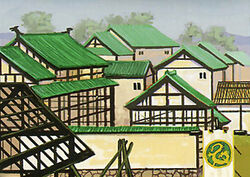 West Hub Village (A8) was once home to the Imperial storehouses and Tax Collectors. [1]
Sake Works
Edit
The village had a sake factory, the Western Hub Sake Works. [2]
The ronin Tsi family was granted a state in the village upon its foundation during the reign of Hantei Genji, making it their ancestral family home. [3]
Dragon Stewardship
Edit
The West Hub Village had the fewest remaining villagers of all the Hub Villages. The village, however, was now growing once more as it was the home of the Oriole Clan and protected by the Dragon Clan. [4]
Fall of Otosan Uchi
Edit
In 1159 in the Fall of Otosan Uchi the Emerald Champion, Yasuki Hachi, ordered Hida Wukau to protect the village with Crab troops . [5]
Tsi Control
Edit
The Tsi family remained here, making their beautiful weapons. [6] These weapons generally attract the only visitors to the village. [7] The first bushi dojo of the Oriole Clan was established in West Hub Village, just beyond the ruins of Otosan Uchi. In the late 12th century the Tsi virtually run this village, under the patronage and protection of the Dragon Clan. [8]
External Links
Edit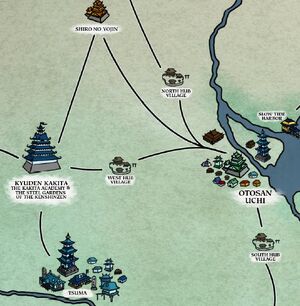 References
Ad blocker interference detected!
Wikia is a free-to-use site that makes money from advertising. We have a modified experience for viewers using ad blockers

Wikia is not accessible if you've made further modifications. Remove the custom ad blocker rule(s) and the page will load as expected.