South Hub Village (A10) was once a center of art and culture. [1]
Hub Village
Edit
One of the Hub Villages, the South Hub Village had been slightly more active since the Fall of Otosan Uchi [2] than Mura Nishi Chushin and Mura Higashi Chushin. Its proximity to Kyuden Seppun to the north was the reason for this, prociding travellers and pilgrims on a semi-regular basis. It had become even more active since the Yotsu family and the Crane Clan restored order after defeating ninja controlling the city in 1167. [3]
Great War
Edit
In 42 the village was overrun by the Shadowlands forces approaching the Imperial City prior to the Battle of Four Winds. [4]
Doji Nio
Edit
Doji Nio, son of Lady Doji and Kakita, made the South Hub his home. After he died his estates were left "to Rokugan's authors of beauty." Since that time, his large estates became a communal home for storytellers, poets, painters, and other artists trying to make a name in Otosan Uchi. [5] They were known as Kyuden Nio.
Kyuden Nio
Edit
Kyuden Nio laid in ruins after it was destroyed in 1158 by the Onisu Hakai during the Test of the Jade Champion. [6]
Fall of Otosan Uchi
Edit
In 1159 during the Fall of Otosan Uchi Mira Minami Chusin was defended by Lion Clan forces alongside with ronin peasants and workers, led by Ogai. [2]
Southern Hub Silk Works
Edit
In 1170 the control of the profitable Southern Hub Silk Works passed from the Tortoise to the Mantis Clan, in return for Mantis military protection of Koeru Mura. [7]
External Links
Edit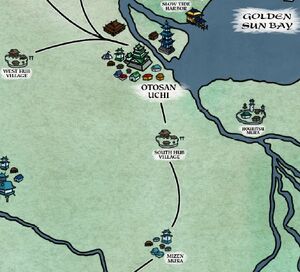 References
Ad blocker interference detected!
Wikia is a free-to-use site that makes money from advertising. We have a modified experience for viewers using ad blockers

Wikia is not accessible if you've made further modifications. Remove the custom ad blocker rule(s) and the page will load as expected.