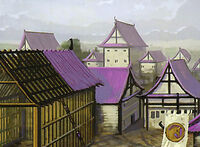 The North Hub Village (A5) was one of the Hub Villages around Otosan Uchi. The village headman had been a Tortoise for as long as there had been a Tortoise Clan, and most of the village's resources went to the Tortoise. [1]
Merchant Center
Edit
It was once a powerful merchant center of the Empire, [2] also known for its shipwrights. [3] The village was near many ports of various clans and it was often the first stop for wares on their way into the Empire. The Tortoise operated a large marketplace, the Iron Turtle Market Square, and the Tortoise Embassy was also established in the village instead at Otosan Uchi. [4]
Four Winds
Edit
In 1158 Toturi Tsudao overturned one Bloodspeaker cell of in the village. [5]
Fall of Otosan Uchi
Edit
Since the Fall of Otosan Uchi. The buildings that were left empty when the heimin fled were being used by the Tortoise as shops and warehouses, full of exotic goods. [6]
Shinjo Shono
Edit
In 1167 Shinjo Shono while investigating ninja activity found an abandoned Tortoise storehouse brimming with wealth. As he and his men could not possibly carry all of it away Shono gave his new allies, the East Wind rights to take all that they wished from what remained. [6]
External Links
Edit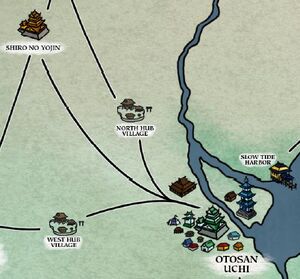 References
Ad blocker interference detected!
Wikia is a free-to-use site that makes money from advertising. We have a modified experience for viewers using ad blockers

Wikia is not accessible if you've made further modifications. Remove the custom ad blocker rule(s) and the page will load as expected.