Mukami was a member of the Scorpion Clan. He became the yojimbo of Tsuruchi and a member of the Wasp Clan. [1]
Mukami was ten years younger than his Lord, and he dropped his Scorpion family name and sword to join the Wasp. He oversaw the day-to-day duties at Kyuden Ashinagabachi when Tsuruchi was not there, and he was the captain of the ronin castle guard. [2]
Skirmisher
Edit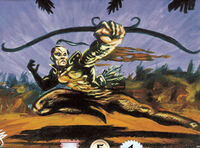 Mukami oversaw the training program for those who wished to join his clan. As a final exercise Mukami led the students to capture some particularly challenging bounty. [2] Mukami was a master of guerrilla tactics, who often led skirmishing units of archers, launching deadly attacks from ambush, then fading back outofthe enemy's range. [3]
Otosan Uchi
Edit
Mukami owned a private Estate at Otosan Uchi prior to the Scorpion Coup. [4]
Shadowlands within the Empire
Edit
Mukami was a part of an Mantis invasion party ordered by Yoritomo. The Mantis ranks were filled with many ronin. The army had come to purge the Shadowlands that plagued the people, and if in doing so the Yoritomo's Alliance could prove their mettle to the Great Clans, so much the better. [5] In 1127 Tsuruchi, with Mukami at his side, led a unit of the Alliance against an horde of oni and goblins, near the southern Crane border. Despite their small numbers, the combined archers of the Wasp, and shugenja of the Centipede and Fox delayed the Shadowlands forces until the Alliance's main army reached them. [6] Mukami was given free rein to make decisions on behalf of the clan while serving with Yoritomo's Alliance in the field. [7]
Mukami died in 1152, passing into Yomi with a smile and a sense of satisfaction. [7]
See also
Edit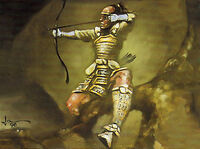 External Links
Edit
References
Ad blocker interference detected!
Wikia is a free-to-use site that makes money from advertising. We have a modified experience for viewers using ad blockers

Wikia is not accessible if you've made further modifications. Remove the custom ad blocker rule(s) and the page will load as expected.