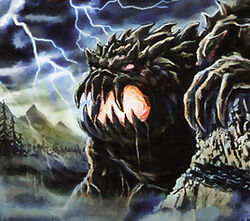 Muduro no Oni, the Corrupted Mountain, was an oni of the Shadowlands. [1]
Appearance and Abilities
Edit
Muduro no Oni were simple, unintelligent demons which resembled an animated portion of a mountain. With enormous claws and teeth, their bodies were covered in sharp rock-like protrusions. They used their claws or tryed to swallow their opponents whole. [1]
12th Century
Edit
One of this monsters was fought by Zanaru and Jinako. [2]
See also
Edit
External Links
Edit
References
Ad blocker interference detected!
Wikia is a free-to-use site that makes money from advertising. We have a modified experience for viewers using ad blockers

Wikia is not accessible if you've made further modifications. Remove the custom ad blocker rule(s) and the page will load as expected.