Ad blocker interference detected!
Wikia is a free-to-use site that makes money from advertising. We have a modified experience for viewers using ad blockers

Wikia is not accessible if you've made further modifications. Remove the custom ad blocker rule(s) and the page will load as expected.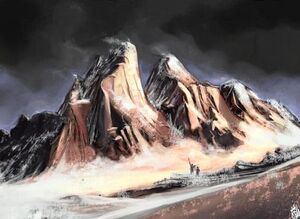 Mountains of Exile separated Rokugan to the lands far north of it. [1] Following the Fall of the Kami, those who were not willing to obey the Kami were obliged to leave throught the northern mountains. [2] It later served as the destination for any whom the Emperor would sentence to permanent banishment, leaving through Exile's Road. [3]
External Links
Edit
References