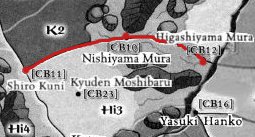 Mountain Road was the aptly named road that cut directly through a small pass leading through the Wall Above the Ocean Mountains. This road connected Shiro Kuni (CB11) in the west to Nishiyama Mura (CB10), then to Higashiyama Mura (CB12) on the other side of the mountains. [1] From there it cut across the Kawa no Kin and into Crane Clan lands until it ended at Yama ue no ho ni Umi Mura. [2]
Winter Trouble
Edit
The snow that fell every winter would always close the road [1] between Higashiyama Mura and Nishiyama Mura, but a network of natural caverns could be used to pass under the mountain, althought the caves were quite dangerous, even containing Shadowlands creatures on the eastern side of the caverns. [3]
References
Ad blocker interference detected!
Wikia is a free-to-use site that makes money from advertising. We have a modified experience for viewers using ad blockers

Wikia is not accessible if you've made further modifications. Remove the custom ad blocker rule(s) and the page will load as expected.