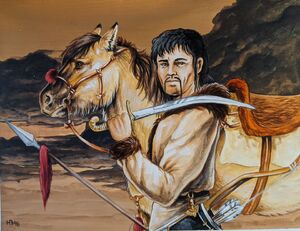 Moto Yesugai was a Desert Raider and guide of the Moto Clan.
Burning Sands
Edit
Yesugai was fond of the Senpet Nekhebet, his eyes lighted like stars when she arrived from the Ivory Kingdoms in the winter caravan. [1] [2] [3] Yesugai was a companion of Hojyn, an immortal Ashalan. [4]
Hassuk's Golden Bow
Edit
Yesugai was the wielder the Hassuk's Golden Bow. [5]
After the death of Nekhebet during the Shattering of the Jewel Yesugai had his heart broken, so there was little left for him in the Burning Sands. Yesugai followed Moto Gaheris and Shinjo back to her home, seeking a new beginning. [6] He swore fealty to the Unicorn Clan. [7]
Corruption
Edit
Yesugai became a lost samurai after his death. [7]
External Links
Edit
References