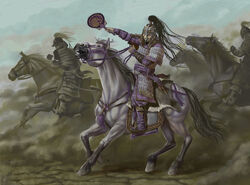 Moto Xiao was a bushi and commander of the Unicorn Clan.
War of Dark Fire
Edit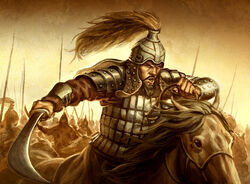 During the War of Dark Fire Xiao was commanding the scouting groups that the Khan Moto Chen had dispatched to the Great Northern Mountains. In 1171 he saw part of the yobanjin Army of Fire leaving the Isawa Mori toward the Dragon Heart Plain and the ruins of Shiro Chuda, where dangerous spirits could be awakened. Xiao left the ground, and only Iuchi Umeka remained to confront them. She sacrificed herself when she called the elements that destroyed the raiders. [1]
A map with information on the size and placement of the various Yobanjin patrols they had been tracking was provied by a Xiao's scout to a Lion Warden, Ikoma Tomoi. Xiao expected the Lion could get insight and discern a pattern for the Army of Fire next targets. The Lion realized the true raiders target was Shiro Mirumoto. [2]
Decimated
Edit
The village of Shinsei and Sumai Mura was razed to the ground by the raiders, and Xiao managed to recover sacred scrolls before the destruction. He arrived to winter court at Kyuden Bayushi and passed them to the Phoenix Clan. Only three men of Xiao's group had survived. [3]
Age of Conquest
Edit
Xiao survived the Destroyer War and worked for his clan during the Age of Conquest. [4]
External Links
Edit
References
Ad blocker interference detected!
Wikia is a free-to-use site that makes money from advertising. We have a modified experience for viewers using ad blockers

Wikia is not accessible if you've made further modifications. Remove the custom ad blocker rule(s) and the page will load as expected.