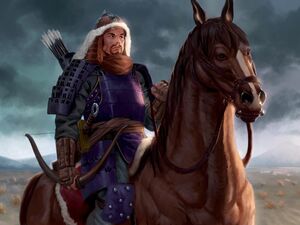 Moto Taha was a bushi of the Unicorn Clan who lived in the late twelfth, early thirteenth century. [1]
Demeanor
Edit
Taha never felt the wanderlust that overtook much of his clan and prefered living in castles and large cities because he was gregarious and engaging. [2]
Khan's Elite Test
Edit
He wanted to join the Khan's Elite when Shinjo Shono's daughter Shinjo Min-Hee was the Khan. This unit selected its members through a test where the contenders attempted to best the Khan herself. Taha, among others, entered in the playground, and joined efforts with Shinjo Baeshuko to increase their chances that one could take a hit on Min-Hee. The Khan defeated them both. [3]
A veteran junghar, Taha was appointed as gunso, to patrol near a temple of the defunct Horiuchi family. Utaku Tsukiko a cheerful and skilled Battle Maiden was one of his scouts. [4]
External Links
Edit
References
Ad blocker interference detected!
Wikia is a free-to-use site that makes money from advertising. We have a modified experience for viewers using ad blockers

Wikia is not accessible if you've made further modifications. Remove the custom ad blocker rule(s) and the page will load as expected.