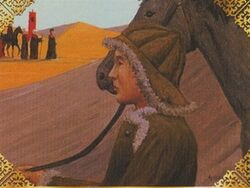 Moto Shu-kai was a Moto scout.
Medinaat al-Salaam
Edit
His father lost a hand to a Khadi, [1] the heartless enforcers of the Immortal Caliph Hanan Talibah. [2]
Attacking the Senpet
Edit
In 1130 Moto Kiyoshi took half of the Clan to attack the Senpet. The Khan Moto Gaheris followed with the rest to avoid their total destruction. [3] The Senpet were returning from their victory over the Scorpion Clan when the Moto descended upon them beginning the Moto-Senpet War. But a sudden sandstorm swept up around them, and the will of the Lady washed them away into the sand. Shu-kai believed the desert had swallowed them. [4] As they charged the Senpet army, the sand beneath them opened and wretched, Ghul's twisted fingers reached up at their horses' legs. Moto Kara watched his husband Gaheris slip into the sand, followed by the screaming Senpet. [5] Gaheris and Kiyoshi were gone. [6]
Defeated by the Senpet
Edit
The Senpet riders came from the west and Senpet chariots charged from the east. They turned the horde about, but there was nowhere left to run. [7]
External Links
Edit
Shu-kai (LBS - Shadow of the Tyrant)
References
Ad blocker interference detected!
Wikia is a free-to-use site that makes money from advertising. We have a modified experience for viewers using ad blockers

Wikia is not accessible if you've made further modifications. Remove the custom ad blocker rule(s) and the page will load as expected.