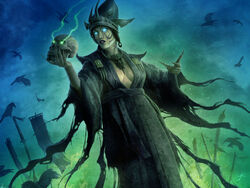 Moto Rani was a Water shugenja of the Unicorn Clan who lived in the late twelfth, early thirteenth century. She became a Moto Priest of Death dedicated to the Shi-Tien Yen-Wang. [1]
Lords of Death Priest
Edit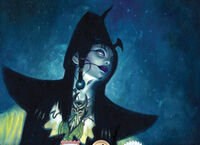 Rani was a beautiful, bubbly child before she became a Death Priest, which gave her a scary appearance. [2]
Ambushes on the Ki-Rin Path
Edit
Rani was tasked to find out who was begind the ambushes on the Ki-Rin Path. Once she was sure it wasn't the Spider Clan - she had the ability to know when she was being lied to -, she secured the help of the Spider against the then unknown enemies. [3]
Visit to Steel Soul Dojo
Edit
Rani visited Daigotsu Kanpeki at Steel Soul Dojo and was surprised when he invited her to join him as he was to worship his father Daigotsu, the Master of Jigoku in the temple on the premises. Rani was unsure about the nature of the invitation, because veneration of Daigotsu was forbidden to all but the Spider. Kanpeki clarified that she might find the worship of the Dark Lord of interest, because the Unicorn and Spider both would practice a form of religion the other clans found distasteful. [4]
Dubious Compliment
Edit
Kanpeki admitted to Rani that she reminded him of her mother, Shahai, the Dark Fortune of Blood. The Death Priest wasn't sure whether that was a compliment or a dreadful insult. Kanpeki chuckled and answered that would depend on his mother's mood when he found Rani comparable to her. [4]
Assassination Attempt
Edit
Ruhmalites attacked Steel Soul Dojo and assassins attempted to kill Rani. Although it was her who alerted Kanpeki about the attack and although she could fight off one assassin, in the end it was the Spider Champion who saved her life. On that day the dojo was set on fire. [4]
External Links
Edit
References
Ad blocker interference detected!
Wikia is a free-to-use site that makes money from advertising. We have a modified experience for viewers using ad blockers

Wikia is not accessible if you've made further modifications. Remove the custom ad blocker rule(s) and the page will load as expected.