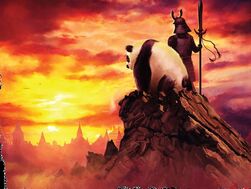 Moto Ogaru was a bushi commander of the Unicorn Clan.
Appearance and Demeanor
Edit
Ogaru was an enormous, brutish-looking man, but with an easy laugh and a gentle nature. The panda bears had a great affinity with him. [1] When younger, a panda saved his life scaring a wild tiger which attacked him in the wilderness. After that event, Ogaru spent his free time with the pandas that seemed to follow and show up wherever he was, treating Ogaru as if he was one of their own. [2]
See also
Edit
External Links
Edit
References