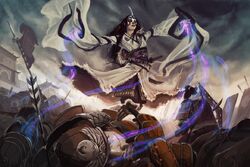 Moto Nergui, the Scion of Void, was a void and water shugenja, member of the Moto Death Priest of the Unicorn Clan.
Moto Curse
Edit
Spiritual Threat to the Empire
Edit
In 1199 the Phoenix Clan made public an astrological report which claimed the Moto family had a curse in their bloodline, and anyone of Moto blood drew ill fortune, which they passed to the descendant they bore with the members of other families. Nergui told to Shinjo Min-Hee that the Phoenix were right. The Khan, who had just appointed Nergui as her advisor, believed this did not matter, because the Phoenix exposing the report to the Empire had made it a matter of honor between both Clans. [1]
Contested Leadership
Edit
Nergui, advisor to Min-Hee, passed the terms of peace accepted by the Unicorn Clan Champion Moto Naleesh after the Unicorn defeat in the Battle of Treacherous Pass. Min-Hee considered them completely unacceptable, so she decided the Shinjo would contest the Moto's leadership and begin a Unicorn Civil War. [2]
External Links
Edit
References