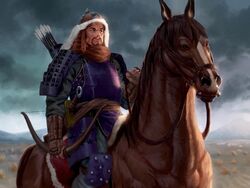 Moto Munoru was a bushi tactician of the Unicorn Clan.
Destroyer War
Edit
In the month of the Hare of 1173 [1] Munoru was under the command of Akodo Tetsuru, who was leading a combined force of Lion, Unicorn and Hare warriors at Kudo. When the snow began to chill the Destroyers resumed their advance in the area. Tetsuru ordered to evacuate the village, and to leave it undefended. The village was not fortified and they had no possibilities to halt the offensive. [2]
External Links
Edit
References
↑ Imperial Histories 2, p. 253
Ad blocker interference detected!
Wikia is a free-to-use site that makes money from advertising. We have a modified experience for viewers using ad blockers

Wikia is not accessible if you've made further modifications. Remove the custom ad blocker rule(s) and the page will load as expected.