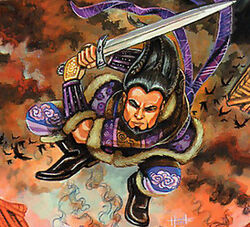 Moto Kumari was a bushi of the Unicorn Clan.
Kumari was a taisa of the Khol. [1]
War of the Rich Frog
Edit
In 1165 Kumari fought in the War of the Rich Frog. He interviewed the Hiruma Daimyo, Hiruma Todori, when the Crab journeyed through the Unicorn lands in his way to the High House of Light. The Dragon had rushed in the war following Emperor's command and became enemies of the Khan. Todori explained his task, to deliver the Blade of Penance, a shamesword crafted by Kokujin, to Togashi Satsu. Kumari let him go. [1]
Scorpion Intervenes
Edit
Kumari sent correspondence to his Khan regarding Scorpion increased activity along the border. He did not deserve good opinion about their intentions. [2] He did not know the Scorpion had been engineered a increased relation within their pact with the Unicorn, and they would try to outmaneouver Kumari to appoint Bayushi Tsimaru as general of the combined forces. [3]
Alternate Reality
Edit
In an alternate reality Kumari became the Unicorn Clan Champion. [4] He was chased by the corrupted Otaku Kamoko. [5]
External Links
Edit
References
Ad blocker interference detected!
Wikia is a free-to-use site that makes money from advertising. We have a modified experience for viewers using ad blockers

Wikia is not accessible if you've made further modifications. Remove the custom ad blocker rule(s) and the page will load as expected.