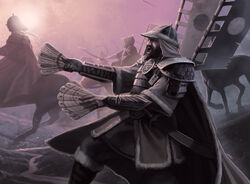 Moto Isul was a bushi tactician of the Unicorn Clan.
Colonies
Edit
Isul was appointed as escort of the caravans that traveled the Ki-Rin's Path, from the westernmost regions of the Unicorn Clan's holdings before finally reaching the northern reaches of the Colonies, at Journey's End City. [1]
Yodotai Raiders
Edit
In 1198 he confronted raiders that attacked his caravan. Surprised and determined to protect their charges, the Unicorn had no choice but to fall back to a secondary route, leaving a smaller force to fight to the death as a delaying tactic to insure their Imperial cargo was not captured. The Unicorn did not uncovered their identity, but an Akod senior sensei recognized hints of the Yodotai strategies. [1]
External Links
Edit
References
Ad blocker interference detected!
Wikia is a free-to-use site that makes money from advertising. We have a modified experience for viewers using ad blockers

Wikia is not accessible if you've made further modifications. Remove the custom ad blocker rule(s) and the page will load as expected.