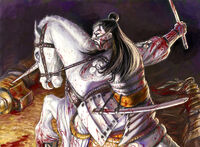 Moto Hideyo was a Unicorn Clan warrior and member of the Khol.
Spirit Wars
Edit
Hideyo became leader of the White Guard as a reward for valor during the War of Spirits. [1] He owed to Moto Vordu part of his success, and Hideyo would pay his debt. [2]
White Guard Comannder
Edit
A devout of the Tao and the Fortunes, his life was consumed with prayer, study, and training. [1]
Nezumi Genocide
Edit
A series of misunderstandings between the Unicorn guarding the Naga ruins and the Tattered Ear Tribe living in the Shinomen Mori caused tensions between the two groups. The Khan Moto Chagatai [3] ordered Hideyo [4] to attack the Tattered Ear in the Shinomen Mori. [5]
Shiro Moto
Edit
Hideyo fought in the Fall of Shiro Moto in 1170. However Hideyo managed to kill one of the enemy generals, Akodo Bakin. He spoke to Akodo Shigetoshi as the higher survival Unicorn officer until Moto Chen stepped in. [6]
External Links
Edit
References
Ad blocker interference detected!
Wikia is a free-to-use site that makes money from advertising. We have a modified experience for viewers using ad blockers

Wikia is not accessible if you've made further modifications. Remove the custom ad blocker rule(s) and the page will load as expected.