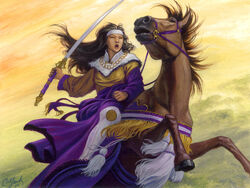 Moto Hanzhi was a bushi of the Unicorn Clan.
Hanzhi was cousin of the Unicorn Clan Champion, Moto Chagatai. She served with his cousin's army, the khol. [1]
Trade agreement with the Crane
Edit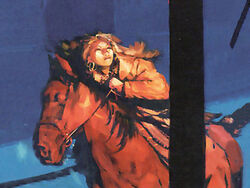 The Crane Clan was at Shiro Moto to made a trade agreement with the Unicorn. The Unicorn would begin sending caravans to the Crane lands regularly. The Khan ordered to patrol the border to avoid any incident with the Crane. Hanzhi and Moto Zhiang patroled the border. [2]
Strange Offer
Edit
Hanzhi met Shosuro Omezo in 1165, being the Scorpion an ambassador to the Khan's court at Shiro Moto. Both engineered a gambit to deceive Doji Takeji, servant of Kakita Munemori. Hanzhi and Takeji were talking about the War of the Rich Frog, and the known Unicorn alliance with the Scorpion, but also he knew of the secret Crab alliance, which surprised Haznhi. Omezo interrupted them abruptely, speaking rude words of Munemori, to be warned and dismished by Hanzhi. Takeji offered Hanzhi a strange alliance Crane-Unicorn. Nor Hanzhi neither Omezo trusted Takeji, and both allies would survey the Crane closely. [1]
External Links
Edit
References
Ad blocker interference detected!
Wikia is a free-to-use site that makes money from advertising. We have a modified experience for viewers using ad blockers

Wikia is not accessible if you've made further modifications. Remove the custom ad blocker rule(s) and the page will load as expected.