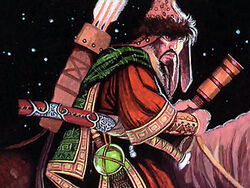 Moto Feng was a Unicorn Clan bushi. His comrades described him as quiet with a great respect for nature, and the Junghar commander viewed him as a necessary evil. Feng was a saboteur of great skill, setting many traps and snares in Unicorn lands. The traps were not active, due to frequent Unicorn patrols, but could be activated at any time. [1]
External Links
Edit
References
↑ Secrets of the Unicorn, p. 18
Ad blocker interference detected!
Wikia is a free-to-use site that makes money from advertising. We have a modified experience for viewers using ad blockers

Wikia is not accessible if you've made further modifications. Remove the custom ad blocker rule(s) and the page will load as expected.