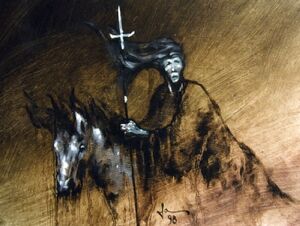 Moto was an Ujik-hai who became a follower of Shinjo during the 1st century. [1] Other sources said he was a gaijin who joined the Ki-Rin Clan in the 5th century. [2]
Ujik-hai
Edit
Moto was a formidable desert warrior known for his incredible speed and refusal to be bound by anything but his own choice. [3]
Ki-Rin Clan
Edit
Moto swore fealty to her and the Moto family was founded by his descendants upon his death. Because he joined Shinjo, the jealous Shi-Tien Yen-Wang captured his soul and cursed his descendants. In the 12th century the Lords of the death were appeased and Moto's soul reached Yomi. [4]
External Links
Edit
References