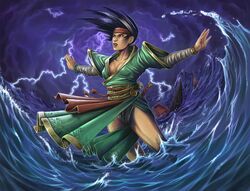 Moshi Yuriko was a thunder shugenja of the Mantis Clan.
Travel to the Ruined Kingdoms
Edit
In 1172 Yuriko was a member of a Mantis expedition with Moshi Kalani to the Ivory Kingdoms during the Destroyer War. [1]
Genocide
Edit
Tsuruchi Akinori's patrol was lost in the jungle, and the Mantis organized a search party. They found the remnants of the inhabitants of the area inside a chasm. It was filled up with bodies and dirt had been dumped over all of it, making a mass grave of tens of thousands corpses. All of them had been sacrificed in a ruhmalist ritual. Three cuts had been made, one in the right side, another in the throat, and the last in the heart. The Mantis of the lost patrol were not found. [2]
External Links
Edit
References