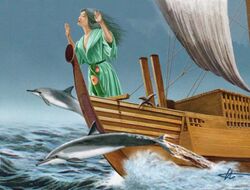 Moshi Taya was a water shugenja of the Mantis Clan.
Taya was an assistant of the Moshi Daimyo Moshi Amika. [1] After Amika died in 1170 she was an assistant of Yoritomo Yoyonagi in the Imperial Court. [2]
Celestial tournament
Edit
Taya was present when the Voice of the Jade Sun and the Voice of the Obsidian Moon announced the Celestial Tournament sponsored by the Celestial Heavens to select the new Emperor. Yoyonagi sent words to the Mantis Clan Champion Yoritomo Naizen through her. [2]
External Links
Edit
References
Ad blocker interference detected!
Wikia is a free-to-use site that makes money from advertising. We have a modified experience for viewers using ad blockers

Wikia is not accessible if you've made further modifications. Remove the custom ad blocker rule(s) and the page will load as expected.