Moshi Takako 
 
Born:
Unknown 
Died:
Unknown
People
Moshi Takako was a thunder shugenja of the Mantis Clan.
Destroyer War
Edit
In 1172 Takako aided the Mirumoto Elite Guard and Mukami's Legion to intercept and destroy an oni horde unleashed during the Destroyer War.[1]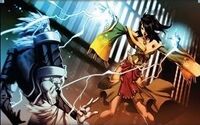 Takako died before the end of the Destroyer War. [2]
External Links
Edit
References