Moshi Rukia was a Thunder shugenja of the Mantis Clan.
Colonies
Edit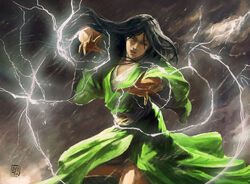 In 1198 during the Mantis-Crane War in the Colonies the rikugunshokan Yoritomo Emoto managed to break the Crane blockade at Twin Forks City. After the Mantis ships passed the city Rukia called the thunder to strike the water of the river, and great waves rose up in an instant and crashed upon the shores, sinking several ships and killing many of the Crane defenders. [1]
The Sparrow's Fate
Edit
Sparrow Ancestry
Edit
Rukia visited the Suzume Hills in winter of 1198, the lands of her grandparent Suzume Ito. She was blocked by snow there, and the hatamoto to the Sparrow Clan Champion, Suzume Makishi, who was forced to give her hospitality for the entire season. [2]
Infiltration in the Sparrow
Edit
Rukia realized there were no kami to invoke in the only Suzume shrine, which was in completely disrepair. She decided to restore it and consecrate the grounds again. Rukia met the Sparrow Clan Champion Suzume Ryosuke and taught him how to pray the kami. In return, he aided Rukia with the shrine. [2] Ryosuke had been betrothed to Suzume Aya, but he suspected about her true nature. In 1199 Rukia exposed the convincing Sparrow maiden as a tainted supai, killing her on the spot. [3]
Removing the Infiltration
Edit
Rukia encouraged Ryosuke, who attempted to flee with his honor guard to Scorpion, so he could expose the Spider infiltration to the Empire. His own Captain Suzume Yutaka and Suzume Hiroshi killed his only loyal follower, Suzume Manabu, and grievously wounded Rukia. Daigotsu Ryudo, known among the Sparrow as Suzume Tatsu, ordered his men to cut Yutaka down. Ryudo had led a group of infiltrators, who had become loyal to the Sparrow, against Makishi's assassins, saving Ryosuke and allowing him to escape with a message to Empress Iweko I at Toshi Ranbo. [3]
Slandered
Edit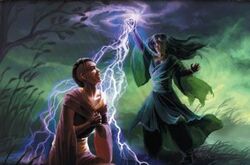 Controversy spread with the death of Agasha Ryo in 1199. While her kin claimed that she was killed by Moshi Rukia when Ryo attempted to mediate a conflict between the Mantis and a Kakita that had taken sanctuary within one Phoenix temple in the Colonies, there was testimony of Sparrow Clan Champion Suzume Ryosuke that winter snows had trapped Rukia in the Suzume Hills. [4]
External Links
Edit
References
Ad blocker interference detected!
Wikia is a free-to-use site that makes money from advertising. We have a modified experience for viewers using ad blockers

Wikia is not accessible if you've made further modifications. Remove the custom ad blocker rule(s) and the page will load as expected.